Fifteen Dogs Thursday February 10 2022 at 8:00 PM EST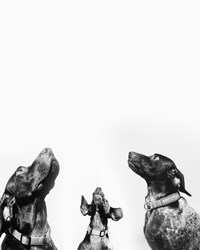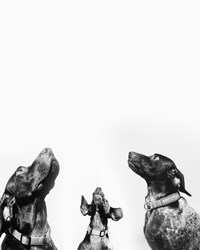 You've selected
Thursday February 10 2022 at 8:00 PM EST
Change Date
×
A Crow's Theatre commission and public workshop presentation, FIFTEEN DOGS is a stage adaptation by Marie Farsi (Ghost Quartet) of the multi-award-winning novel by André Alexis.
A bet between the gods Hermes and Apollo leads them to grant human consciousness and language to a pack of dogs in a Toronto veterinary clinic. The pack is quickly divided between those embracing their newfound capacity for complex thoughts, and the ones resisting emotion and intelligence. The gods watch from above as the dogs discover both the poetry and the pitfalls of human consciousness.
A modern fable, FIFTEEN DOGS pays tribute to the profound relationship between humans and dogs while offering us the opportunity to examine what it means to be alive and learn about our own true nature.
André Alexis was born in Trinidad, raised in Ottawa and lives in Toronto. His novel, Fifteen Dogs, won the Scotiabank Giller Prize, the Rogers Writers' Trust Fiction Prize, the Canada Reads Prize, and is a beloved, global bestseller.
Venue
Guloien Theatre
345 Carlaw Avenue
Toronto ON M4M 2T1
Performance Notes
50% Capacity.
Seating bubbles are based on ticket orders. If you are attending the theatre with a patron who purchased their tickets in a separate order from you, please let box office know prior to your performance date so we can ensure a bubble of the correct size is available.
At Crow's Theatre we aim to be surprising, unpredictable, and urgent. While we hope to avoid 'spoilers' when promoting our productions, some of our shows deal with war and its associated violence, colonization, adult language, sexual violence, gun violence, mass murder, and suicide.
We understand that there is subject nature which may cause distress or trigger challenging emotions for some of our audience members. If there are certain themes that you would find particularly disturbing, please speak to someone in patron's services before entering the theatre, or contact the box office via email at boxoffice@crowstheatre.com or call 647.341.7390 ext. 1010.
We are here to assist you.
×
Seating is General Admission at this performance. Doors open 1/2 hour prior to performance. Limited Premium reserved seating is also available at an additional cost.