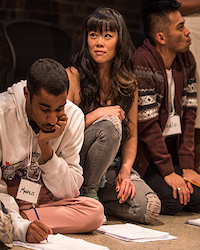 March Break Verbatim Theatre Workshop
When
Occurs on Tuesday March 12 2019
Approximate running time: 6 hours
Venue
Performance Notes
×
March 13, 2019
10:00am-4:00pm
Over the past 30 years, Verbatim Theatre (or Documentary Theatre) has become a more and more popular way of making plans from real- life stories. Since 2008, Project: Humanity has been a leading developer of these 'live documentaries' in Toronto with highly acclaimed shows like The Middle Place and Freedom Singer.
A mashup of drama and journalism, Verbatim theatre activates the imagination and the conscience at once. It represents the best of artivism. It also questions the nature of 'realness' in exciting ways, taking 'based on a true story' to a whole new level.
Over the course of our 1 day workshop, participants will get to know Project: Humanity's Verbatim Theatre techniques and will begin to create their own 'live documentary' about issues that matter to them. This is not just a workshop for actors and/ or playwrights; Project: Humanity invites any students who are interested in the arts and social change, in politics and debate- or even reality TV.
The camp runs 10am-4pm on Wednesday, March 13, 2019 and is designed for students in Grades 9-12.
The fee includes lunch, and admission to a matinee performance of Project: Humanity's new show, Towards Youth, at 2pm.
For more information, please email Lauren at info@projecthumanity.ca