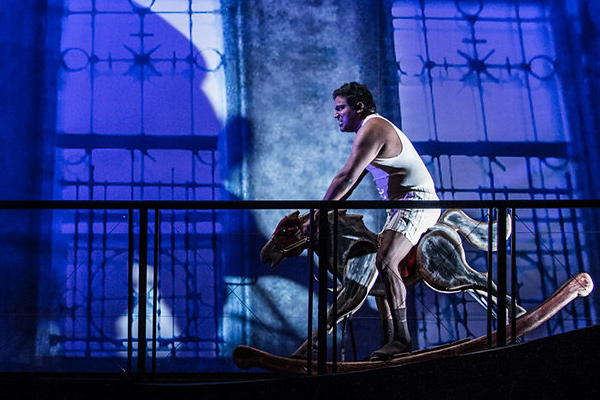 Rocking Horse Winner
When
Runs from Thursday April 23 2020 to Saturday May 2 2020
Approximate running time: 1 hours and 15 minutes
Venue
Performance Notes
×
"There was a woman who was beautiful, who started with all the advantages, yet she had no luck. She married for love, and the love turned to dust...Only she herself knew that at the centre of her heart was a hard little place that could not feel love, no, not for anybody."
For a peculiar child, his grasping mother, their endless need and their whispering house, there is no peace.
Tapestry Opera's award-winning modern adaptation of Rocking Horse Winner explores the relationship between Paul, a young man with developmental challenges, and Ava, his emotionally distant mother. Ava is caught in a spiral of material longing that leaves her in a constant state of regret and despair. Paul becomes obsessed with fixing the family's financial "bad luck" in order to pull his mother out of her anguish. His obsession creates a strange magic that both connects him to luck and makes him vulnerable to powerful voices only he can hear.
Gareth Williams offers a powerful score that races with the adrenaline of financial payoffs and aches with the tender moments of a child's need for approval. Anna Chatterton's libretto is a masterful adaptation of D.H. Lawrence's original short story which lovingly relates the hopelessness of Ava's insatiable desires and Paul's innocent quest to heal her complex problems.
An intimate, psychologically insightful look at love, luck, and greed, Rocking Horse Winner received 5 Dora Mavor Moore Awards including Outstanding Male Performance by Asitha Tennekoon and Best New Production for the 2016 World Premiere production.
As part of Tapestry Opera's 40th Anniversary Season, we're finding new ways to break down barriers and bring more people into the beautiful, tragic, and absurd world of contemporary opera. For select shows, we are piloting Pick-Your-Own-Price model to open doors to as many people as possible.
The higher price points directly subsidize the lower ones - if you're proud of the work we do, if you can afford it, if you want more people to get access for less, pick a higher price! If you want to attend but funds are tight, pick a lower one. Thank you for being part of our historic 40th Season!
"Rocking Horse Winner" by DH Lawrence © the Estate of Frieda Lawrence Ravagli and Cambridge University Press, 1995. Adapted and reproduced by permission from Paper Lion Ltd and the Estate of Frieda Lawrence Ravagli.