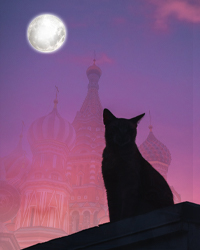 Master and Margarita, A New Musical Adaptation
When
Runs from Thursday October 28 2021 to Saturday October 30 2021
Approximate running time: 1 hour and 30 minutes
Venue
Event Notes
×
A Crow's Theatre commission and public workshop presentation, MASTER AND MARGARITA is a modern musical adaptation of Mikhail Bulgakov's famously banned novel The Master and Margarita. For three special nights in October, Crow's Theatre will invite audiences to experience a salon style work-in-progress performance in which the devil pays a visit to 1930s Moscow.
The devil and his crew have arrived to upend the Soviet bureaucracy under Stalin. The Master, author of an unpublished novel about Jesus and Pontius Pilate, languishes in a psychiatric hospital. Margarita, the Master's devoted lover, agrees to sell her soul to the devil to rescue him from his desperate fate. MASTER AND MARGARITA is an evocation of the human instinct to fight for love, to fight for connection, and to fight for freedom, even in the face of hate, censorship, and subjugation.
The three multi-talented and accomplished co-creators of MASTER AND MARGARITA are Mikaela Davies (The Changeling / Stratford Festival, Miss Bennett / The Citadel); Hailey Gillis (Ghost Quartet / Crow's Theatre, Onegin / The Musical Stage Company); and Polly Phokeev (Seams / Summerworks Festival, How We Are / site-specific work staged in private bedrooms).