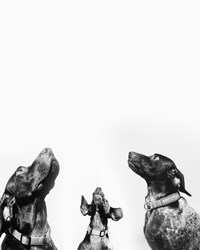 Fifteen Dogs
When
Runs from Thursday February 10 2022 to Saturday February 19 2022
Approximate running time: 1 hour and 30 minutes
Venue
Event Notes
×
A Crow's Theatre commission and public workshop presentation, FIFTEEN DOGS is a stage adaptation by Marie Farsi (Ghost Quartet) of the multi-award-winning novel by André Alexis.
A bet between the gods Hermes and Apollo leads them to grant human consciousness and language to a pack of dogs in a Toronto veterinary clinic. The pack is quickly divided between those embracing their newfound capacity for complex thoughts, and the ones resisting emotion and intelligence. The gods watch from above as the dogs discover both the poetry and the pitfalls of human consciousness.
A modern fable, FIFTEEN DOGS pays tribute to the profound relationship between humans and dogs while offering us the opportunity to examine what it means to be alive and learn about our own true nature.
André Alexis was born in Trinidad, raised in Ottawa and lives in Toronto. His novel, Fifteen Dogs, won the Scotiabank Giller Prize, the Rogers Writers' Trust Fiction Prize, the Canada Reads Prize, and is a beloved, global bestseller.