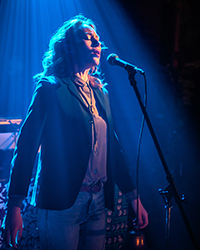 Ghost Quartet - Digital Show
When
Runs from Friday October 29 2021 to Sunday October 31 2021
Approximate running time: 1 hour and 20 minutes
Venue
Event Notes
×
Originally Developed and Arranged by Ghost Quartet (Brent Arnold, Brittain Ashford, Gelsey Bell, Dave Malloy), Annie Tippe, and Christopher Bowser.
This stream of a previously recorded live event was made possible by special arrangement with United Talent Agency and Dave Malloy. All rights reserved.
By accepting to view this stream, you agree that you shall not authorize or permit the stream to be copied, distributed, broadcast, telecast or otherwise exploited, in whole or in part, in any media now known or hereafter developed.

WARNING: United States Federal law provides severe civil and criminal penalties for the unauthorized reproduction, distribution or exhibition of copyrighted motion pictures, television series, plays, videotapes or videodiscs. Criminal copyright infringement is investigated by the FBI and may constitute a felony with a maximum penalty of up to five years in prison and/or a $250,000.00 fine.