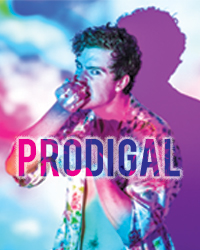 Prodigal
When
Runs from Tuesday February 21 2023 to Sunday March 12 2023
Approximate running time: 2 hours
Venue
Event Notes
×
"If it's a war of attrition you want, Dad, then you better start digging the trenches. Because I've been waiting a long time for this."
Edmund in Prodigal, Paolo Santalucia
PRODIGAL, a world premiere, follows the return home of Edmund Clark, the gay, alcoholic, eldest son of a prominent Toronto family, after he is cut off from the family trust. On the way home, Edmund meets Levi, a man with whom he impulsively engages in a passionate encounter before realizing Levi is also en route to Edmund's family home. The reason: Levi is the brother of the Clark family's estate manager.
Why are the Clarks able to support a teenager in their home while turning their back on their eldest son? PRODIGAL, from the critically acclaimed The Howland Company (Casimir and Caroline, The Wolves, Punk Rock), examines themes of queerness, privilege, marginalization, and forgiveness, as these two young men attempt to return to the families they have lost–one to confront his past and the other to start his future.
Paolo Santalucia (Orphans for the Czar, Crow's Theatre) is an award-winning theatre artist and one of the founding artistic leaders of The Howland Company, for which he adapted and directed Casimir and Caroline and will direct Three Sisters. As a member of the Soulpepper ensemble for 11 seasons, Paolo appeared in The Seagull, La Bête, Of Human Bondage, and Bed and Breakfast, among others.
About The Howland Company
The Howland Company strives for innovation on and off the stage. We are an artist-led and art-driven theatre company, dedicated to the production of electric stories that speak to the world and the times in which we live. Through an agile, collective-leadership model, Howland aims to build new operating structures that empower its artists with agency, skills, and growth opportunities. We seek to challenge and inspire our audiences through productions, training and community initiatives like our Reading Group, fostering a new wave of theatre makers and theatre goers. To learn more about The Howland Company, click
HERE
.