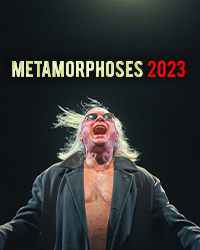 Metamorphoses 2023
When
Runs from Tuesday March 21 2023 to Sunday April 9 2023
Approximate running time: 1 hour and 20 minutes
Venue
Event Notes
×
"Everything changes. Nothing dies. The soul wanders here and there, occupying whatever body it chooses."
– Metamorphoses, Ovid
Survival is at the core of METAMORPHOSES 2023, a bold and contemporary adaptation of Ovid's epic ninth-century poem. Ovid paints the landscape of a cruel world that could be our world: rape, revenge, gruesome violence, and women's rage and resilience. To be alive is to be constantly changing, constantly transforming.
"I love Ovid's philosophy of life as a long wave of transformations: no death, no birth, no beginning, and no end, but an endless possibility to flee, to never be pinned down to one identity." Michele Smith, Director
METAMORPHOSES 2023 is post-mime, it is illusion, it is spoken word and silence. And it is a dialogue between European Mime and Bharatanatyam dance, incarnating the original text's mythic elements.
An innovative, physical theatre company, which has enjoyed international acclaim, Theatre Smith-Gilmour, co-founded by Michele Smith and Dean Gilmour, is committed to creating a theatre that mobilizes the imagination.