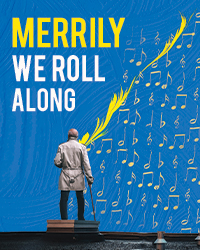 Merrily We Roll Along
When
Runs from Wednesday April 19 2023 to Sunday May 7 2023
Approximate running time: 2 hours
Venue
Event Notes
×
"We had a good thing going, going, gone." Merrily We Roll Along, Stephen Sondheim
From Broadway's greatest songwriter, MERRILY WE ROLL ALONG is a daring musical that ticks backwards in the story of three lifelong friends who fall apart and come together trying to make their dreams come true.
An elderly man returns to the familiar rooftop of his optimistic younger years to contemplate decades of misspent friendship, fame, and fortune in Stephen Sondheim's misunderstood masterpiece. A searing take on the value of friendship and the cost of throwing it all away, this stripped-down and essential production of MERRILY WE ROLL ALONG explores the high price of success and its relentless pursuit.
Dora Award–winning immersive director and frequent Crow's Theatre collaborator, Mitchell Cushman returns to Streetcar Crowsnest following acclaimed productions of Jerusalem and The Flick to reinterpret this storied musical about youthful idealism with the wunderkinds of YES Theatre, Northern Ontario's premiere musical theatre company.