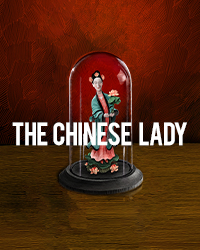 The Chinese Lady
When
Runs from Tuesday May 2 2023 to Sunday May 21 2023
Approximate running time: 2 hours
Venue
Event Notes
×
"It is a beautiful thing to look at something long enough to really understand it. But it is so much more beautiful to be looked at long enough to be understood." The Chinese Lady, Lloyd Suh
Afong Moy is 14 years old when she is brought to the United States from Guangzhou Province in 1834. Purportedly the first Chinese woman to set foot on U.S. soil, she has been put on display for the American public as "The Chinese Lady." As the decades wear on, her celebrated sideshow comes to define and challenge her very sense of identity. Alternatingly dark, poetic, and whimsical, the play is a searing portrait of Western culture seen through the eyes of a young Chinese woman.
Playwright Lloyd Suh's previous work include Charles Francis Chan Jr.'s Exotic Oriental Murder Mystery, American Hwangap, The Wong Kids in the Secret of the Space Chupacabra Go! and Jesus in India. He was a 2020 recipient of the John Simon Guggenheim Memorial Foundation Fellowship.
Director Marjorie Chan is an award-winning, interdisciplinary artist, Artistic Director of Theatre Passe Muraille, and winner of the Governor General's Literary Award in Drama for China Doll, her playwriting debut.