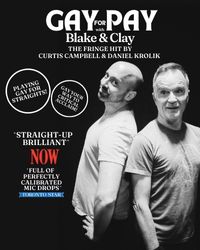 Gay for Pay with Blake & Clay
When
Runs from Wednesday November 16 2022 to Sunday November 27 2022
Approximate running time: 1 hour
Venue
Event Notes
×
Every actor knows there is nothing more prestigious than bravely playing gay. But is your pesky heterosexuality getting in the way of booking a one-way ticket to award season? Join Blake and Clay, two seasoned gay actors, as they teach you to play gay and make LGBTQ about YOU. Go from straight to straight up booked! Let their lived experience get your acting career off life support! Because representation matters, but their representation hasn't called in ages.
The Toronto Fringe sellout hit lands at Streetcar Crowsnest after winning the Second City Award For Outstanding Comedy and Patron's Pick. The Toronto Star raved "I could go on quoting every line in this hour-long play, because so many of them are perfectly calibrated mic drops," while NOW Magazine hailed it as "Straight Up Brilliant". Gay For Pay is "razor sharp satire" (Glenn Sumi) that delivers "a punchy gag-a-second whirlwind" (Istvan Dugalin).
Premium Seating is not available for this production.