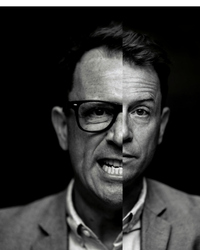 True Crime
When
Runs from Monday May 1 2023 to Sunday May 7 2023
Approximate running time: 1 hour and 30 minutes
Venue
Event Notes
×
A TRUE STORY...FILLED WITH LIES.
We are thrilled to welcome the return of Torquil Campbell (Stars) back to Crow's Theatre with TRUE CRIME , his stage debut which originally premiered at Streetcar Crowsnest in 2017 when the building first opened.
Clark Rockefeller is a real life conman of the highest order, now serving a near-life sentence in a California State prison. Iconic musician and provocateur Torquil Campbell wants to try him on for size. What does it mean for an excellent fabulator to embody an excellent fabulator? In the end, does an intricate con differ that much from a successful work of art?
Torquil's dogged investigation and impersonation challenges us to find the truth in TRUE CRIME and confront our cultural addiction to a good story.
Entirely scripted or absolutely extemporaneous, TRUE CRIME is a mind-twisting encounter with an artist obsessed with how we all fake it, one way or another. Don't miss this one week special presentation.